Hawaii Trips
Hawaii Trips
CONNECT TO ANCIENT HAWAII: 22-day journey to Hawai'i Island & Maui
October 2015
Cleanse and nurture your soul
Heal yourself, your 'Ohana (family) and your ancestral lineage
Understand your life on a deeper leve
In this exceptional JOURNEY with Malamalomi you will experience life like never before. It is a unique opportunity for HEALING within yourself, your 'OHANA (family) and your ancestral LINEAGE. It is a journey of MAGIC that will support you to understand your life and the world around you on a deeper level.
We will share time and space with INDIGENOUS Hawaiian Kumu (teachers) and HEALERS who will inspire you with their wisdom and ANCESTRAL knowledge to make your life more happy, healthy and abundant. This will awaken the KNOWLEDGE within you in a gentle and soft way embraced by the ALOHASPIRIT of the Hawaiian Islands.
For more than 20 years Malamalomi is in CLOSE CONTACT with Hawaii and the Hawaiian people. Our RESPECT for the Hawaiian culture, traditions and values opened the door to this amazing and rare panel of NATIVE teachers who are willing to share their indigenous knowledge with you.
As you are saying YES to cross the oceans to Hawaii you say MAHALO (thank you) to your ancestors for guiding you to join. Since it is their GUIDANCE that enables you to be embraced by the Hawaiian Islands and their people so the SPIRIT OF ALOHA can heal your past, present and future.
E HELE MAI KAKOU, all are welcome
OUR PROGRAMM FOR 2015
LEARN FROM TRADITIONAL HAWAIIAN HEALERS & TEACHERS:
Learn Lomilomi Massage with lomimaster Jimmy Quitan
Learn Hula & Chanting (Hawaiian Dance & Song) with Kumu Hula Punahele Andrade
Learn how to prepare and work with Lomisticks (Hawaiian massagesticks) with Aunty Maile Napoleon, www.auntymaile.com
Get familiar with La'au lapa'au (Hawaiian Herbal Medicine) with herbal master Kumu Kai Kaholokai
Discover how to make an Ipu (Hawaiian Percussion) with Uncle Keoni
Let Aunty Maile Napoleon show you the art of making a haku lei, www.auntymaile.com
Go out on the open ocean with Uncle Manny's outrigger canoes
Learn the ancient Hawaiian art of Lauhala weaving with Kumu Hulali Jewel
Experience pure aloha in the Ukulele classes with Aunty Marjorie Spencer
Do as the Hawaiians and go Surfing with Dustin Tester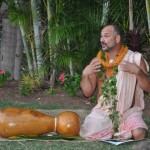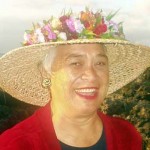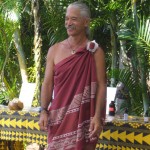 Kumu Puna Andrade; Aunty Maile Napoleon; Kumu Kai Kaholokai
VISIT PLACES OF GREAT POWER:
We will visit vulcanocrater Kilauea, home of vulcanogoddess Pele
We will walk into Sacred Waipio Valley connecting to the aina (land), the lo'i (tarotfields), the kai (ocea
You will offer your chant at the sunrise at Haleakala vulcano (3000 mtr.)
You will receive healing from Lei'ohu Ryder at Heiau Kukuipuka
You will feel the mana (power) of the old village of Lapakai, ancient home of Hawaiian HEALERS
You will rejuvenate in the Ohe'o pools, walk through bambuforests, visit Maui's higest waterfall in Hana
You can relax in the warme pools in Puna
You will explore Kiholo Bay, where fresh water hits the ocean and turtles are all around
Visit sacred Ancient Heiaus (temples) along Konacoast and learn about their connection to lomilomi
You will learn more about ancient petroglyphfields, birthing stones in the ocean, and the building of ancient Hawaiian fishponds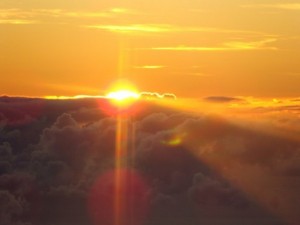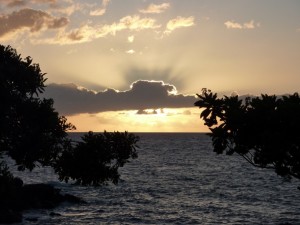 Sunrise at Haleakala Krater, Maui; Sunset Makena, Maui
PARTICIPATE IN SACRED CEREMONIES:
Set your focus with Kapu Kai, cleansingceremonie in the ocean
Release the old in our Hulaceremony at Kilauea vulkaancrater
Experience Ho'oponopono – to make right with Kumu Punahele Andrade
Let the waves inspire your Ka Lele – Flying Dance Meditation in front of the ocean
Listen to fascinating stories about ancient oceannavigation with Chad Paicham
Kokua – Help to restore traditional Hawaiian fishponds with Uncle Kimokeo
INVESTMENT:
INCLUDED IN THE PRICE:
All teachers, workshops, excursions, ceremonies and other activities
Inter-island flight from Hawaii Island to Maui and back
All groundtransportation in 15-person van
Accommodation for 21 nights
Meals, snacks, drinks for 22 days
All entrance fees
NOT INCLUDED: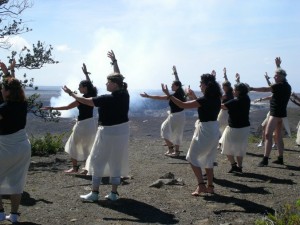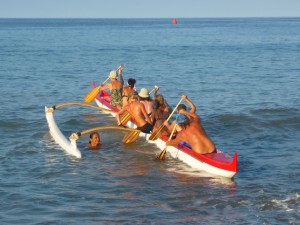 Hula ceremonie at Kilauea krater, Hawaii Island; Outrigger kanoen op Hawaii Island
PRACTICALITIES:
DATES: October 2015
ARRIVAL: We pick you up at Kona Airport (Hawaii Island)
DEPARTURE: We drop you off at Kahului (Maui) . Here your returnflight will take you back to Kona (Hawai'i Island)
ACCOMMODATION: On Hawaii Island we will stay with our host Punahele Andrade who just moved to his own land close to WAIMEA where he is building his own HALAU. On Maui we will stay at Kamaole Sands Resort in Kihei.
PARTICIPANTS: Minimum 10, maximum 13
E Komo Mai, come and join us in this lifechanging event!!!