HAWAIIAANSE gastleraren
HAWAIIAANSE gastleraren
HAWAIIAANSE GASTLERAREN verbonden aan MALAMALOMI
MALAMALOMI is nauw verbonden met verschillende Hawaiiaanse (gast)leraren. Een aantal daarvan komt regelmatig naar Nederland, met de anderen kun je kennis maken in onze reizen naar Hawaii. We stellen ze even aan je voor: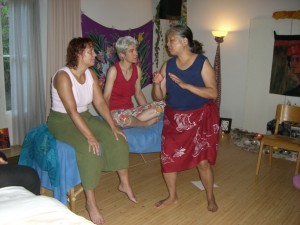 AUNTIE MARYANN PUALANI CHEW QUON NAKOA BARROS gaf jarenlang les in Europa, en is een van de hosts tijdens onze HawaiiReis op Maui. Ook is ze als adviseur aan Malamalomi verbonden. "Aunty Mary is a native Hawaiian whose roots lay strong from Kahakuloa and Makena on the island of Maui in Hawaii. Her Hawaiian lineage dates back to 1600's in Maui. She also affectionately is referred to as Aunty Mary by many. She believes that the balance of spirit mind & body creates harmony. It's the foundation of all else, she says, helping others feel better is being an instrument for ke Akua.
So Maryann started in the first fulltime class of the Maui school of Therapeutic massage from which she graduated. She also studied lomilomi with Daniel Fowler, Kami Hunt and with Auntie Margaret Machado in Napo'opo'o (Big Island) where she received her diploma in advanced lomilomi. She continued to study under Amira Segal learning the ceremonial style of lomi. Presently she studies Hawaiian Spirituality with the Kalama Foundation (under Kumu Aupuni Kaimiloa). Lomi is a life long study. Throughout the years Aunty Mary has taught at the Maui School of Therapeutic Massage, and in Germany, Holland and Canada.
She brings to her students her unconditional love for people and her lomilomi style of touch. A touch that she has embraced from her Hawaiian lineage and other teachers along her path through the years.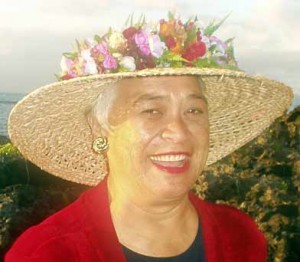 AUNTY MAILE NAPOLEON is inmiddels 72 jaar. Ze leeft met haar man in Waimea, Hawaii Island. Geboren en opgegroeid aan de Kohala Kust van Hawaii, leerde ze lomilomi van haar tutu (oma). Aunty Maile is een ware bron van traditionele Hawaiiaanse kennis, van lomilomi tot la'au lapa'au (kruidengeneeskunde) tot het maken van lomilomi massagesticks en traditionele lei's.
In 2007 werd ze uitgenodigd om Hawaii te vertegenwoordigen in de Conference of the Grandmothers. Aunty Maile heeft Amira en Karin getrained in de lomilomi stijl die ze van haar grootmoeder heeft geleerd. Karin en Amira zijn beide in opleiding voor LOMILOMI WAE WAE (lomilomi op de vloer). Tijdens onze studiereizen naar Hawaii geeft Aunty Maile verschillende workshops zoals het maken van lei's en het leren werken met lomilomi massagesticks.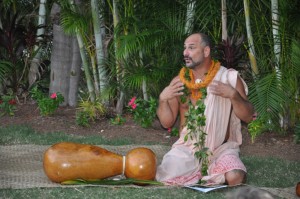 PUNAHELE ANDRADE is Kumu Hula van Na Lei Punahele Amsterdam, en gastheer tijdens onze reizen naar Hawaii. Paul Punahele Andrade is geboren Hawai'i Island en groeide op in Puako en Honoka'a, Hawai'i. He studeerde traditionele Hula Kahiko en de modernere Hula 'Auana gedurende 17 jaar en vandaag de dag is hij kumu hula ( hula leraar) componist en entertainer in veel van de locale Hotel Hawaiian Lu'au shows. He geeft hula les in zijn eigen traditionele school sinds 10 jaar. Gedurende de laatste 5 jaar studeerde hij de traditionele Hawaiian massage of spiritual cleansing (Lomi Lomi ke ala hoku).
Jimmy Quitan